Nadi, Fiji, with its breathtaking natural beauty and vibrant culture, is a destination that captivates the hearts of travelers from around the globe. Located on the western side of Viti Levu, Fiji's largest island, Nadi serves as the main gateway for those seeking to explore the wonders of this South Pacific paradise.
Nadi holds great significance as the international transportation hub of Fiji, with its international airport serving as a major transit point for visitors arriving from various parts of the world. Beyond its practicality, Nadi is also a destination in its own right, offering a perfect blend of stunning landscapes, cultural experiences, and warm hospitality.
Nadi Fiji
Nadi Location
Nadi is a city located on the western side of the main island of Fiji, known as Viti Levu. It is situated on the northern coast of Viti Levu and is the third-largest conurbation in Fiji, following Suva and Lautoka. Nadi is located just a short distance from Nadi International Airport, which serves as the main gateway for travelers arriving in Fiji. This prime location makes Nadi easily accessible and a convenient starting point for exploring the rest of the country. Nadi is blessed with beautiful beaches, stunning landscapes, and a rich cultural heritage, making it a popular destination for both leisure and adventure travelers.
5 Travel Tips for Nadi:
Before embarking on your journey to Nadi, it's essential to familiarize yourself with a few important travel tips:
Visa Requirements: Ensure that you have the necessary travel documentation to enter Fiji. Visitors from many countries, including the United States, can obtain a visa on arrival. However, it's recommended to check the latest visa regulations and requirements on the official website of the Fiji Immigration Department or consult with your travel agent.
Local Customs and Etiquette: While Fijians are generally easygoing and welcoming, it's important to respect their customs and traditions. When visiting villages or entering sacred sites, it's customary to dress modestly and remove your shoes. Always seek permission before taking photographs of individuals or participating in cultural activities.
Currency Exchange: The official currency of Fiji is the Fijian dollar (FJD). It's advisable to exchange some currency upon arrival at the airport or in Nadi town. Major credit cards are widely accepted in hotels, restaurants, and larger establishments, but it's always helpful to carry some cash for smaller vendors or markets.
Climate and Packing: Nadi enjoys a tropical climate with warm temperatures throughout the year. Pack lightweight and breathable clothing suitable for the warm weather, along with sunscreen, a hat, and mosquito repellent. Don't forget to bring a pair of comfortable walking shoes for exploring the stunning landscapes and engaging in outdoor activities.
Transportation: Nadi is well-connected by an extensive network of roads, making it easy to explore the surrounding areas. Taxis and rental cars are popular options for getting around. Additionally, there are local buses and tour operators offering transportation services to popular attractions.
As you embark on your journey to Nadi, Fiji, prepare to be enchanted by the captivating beauty of the islands, the warmth of the local people, and the rich cultural experiences that await you. From pristine beaches to lush rainforests, this tropical paradise offers a world of adventure and tranquility, ensuring an unforgettable travel experience.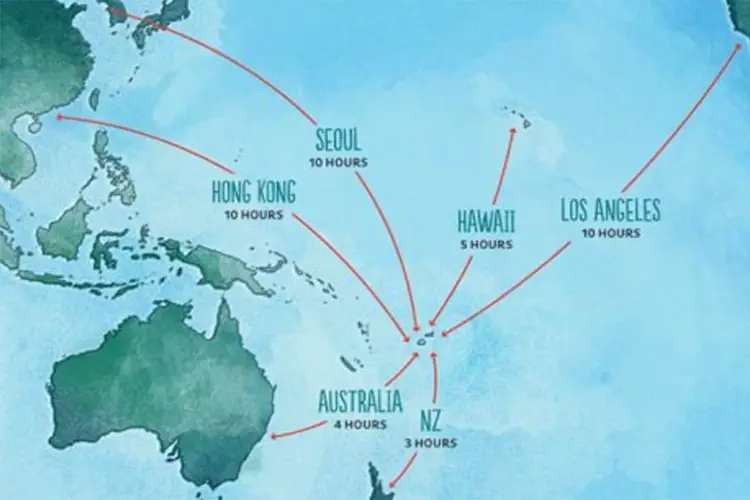 Getting to Know Nadi
Welcome to Nadi, the vibrant gateway to the tropical paradise of Fiji. Nestled on the western coast of Viti Levu, Fiji's largest island, Nadi offers a captivating blend of coastal beauty, lush landscapes, and rich cultural heritage. In this chapter, we will embark on a journey to discover the geographical wonders of Nadi, explore transportation options, and delve into its diverse neighborhoods.
Geographical Overview of Nadi:
With its stunning coastal and inland landscapes, Nadi is a haven for nature lovers and beach enthusiasts. Here's a glimpse into the geographical highlights awaiting you:
Nadi's Coastal Delights:
Imagine picture-perfect beaches adorned with swaying palm trees, crystal-clear turquoise waters, and captivating sunsets. Nadi boasts a coastline that is nothing short of breathtaking. Make sure to visit renowned beaches like Wailoaloa Beach and Denarau Island, where you can unwind, indulge in water sports, and savor delectable beachside dining experiences.
Inland Serenity:
If you're seeking tranquility and natural beauty, head to Nadi's inland gems. The Sigatoka Sand Dunes National Park, located south of Nadi, is a mesmerizing destination with rolling sand dunes and archaeological sites that offer a glimpse into Fiji's ancient history. Another must-visit spot is the Garden of the Sleeping Giant, a peaceful oasis famous for its magnificent orchid collection and tropical gardens that provide a rejuvenating escape from the hustle and bustle of the city.
Local Transportation:
Navigating Nadi and its surroundings is convenient, thanks to a variety of transportation options available. Here's what you need to know:
Nadi International Airport:
As Fiji's main international gateway, Nadi International Airport welcomes travelers from around the world. After your flight, arrange a transfer to your accommodation through private shuttles, taxis, or pre-arranged transfers offered by hotels to ensure a smooth start to your Nadi adventure.
Local Buses:
For an authentic and budget-friendly experience, hop on one of Fiji's colorful local buses. These charming vehicles provide an opportunity to mingle with locals and explore Nadi and its neighboring towns. Familiarize yourself with the bus system, fare information, and popular routes to make the most of this unique transportation option.
Taxis and Ride-Sharing:
If you prefer convenience and comfort, taxis and ride-sharing services are readily available in Nadi. Taxis are a popular mode of transportation, allowing you to reach your destination efficiently. Additionally, services like Uber provide a familiar and hassle-free way to get around the city.
Exploring Nadi's Neighborhoods:
Nadi is a city of diverse neighborhoods, each with its own unique charm and attractions. Here are a few noteworthy areas to explore:
Downtown Nadi:
Immerse yourself in the bustling heart of the city by visiting downtown Nadi. Explore local markets, where vendors sell fresh produce and handicrafts, and soak up the vibrant atmosphere of traditional Fijian architecture. Engage with friendly locals and savor the authentic flavors of Fiji as you wander through the vibrant streets.
Denarau Island:
Just a short drive from Nadi, Denarau Island beckons with its luxurious resort complexes, upscale shopping, and fine dining options. This exclusive enclave boasts world-class accommodations, an 18-hole championship golf course, and a vibrant marina. From Denarau, you can embark on unforgettable island-hopping adventures to the Mamanuca and Yasawa Islands.
Wailoaloa Beach:
For a laid-back and backpacker-friendly experience, head to Wailoaloa Beach. This picturesque stretch of sand offers budget accommodations, beachside bars, and a range of water sports activities. Embrace the relaxed atmosphere, bask in stunning sunsets, and forge connections with fellow travelers from around the world.
Finding the Perfect Accommodation in Nadi
Finding the perfect accommodation is crucial to ensure a comfortable and memorable stay in Nadi. In this chapter, we will explore the diverse range of accommodation options available, from luxurious resorts to budget-friendly hotels and unique boutique stays. Whether you're traveling with family, seeking a romantic getaway, or looking for eco-friendly accommodations, we've got you covered. Additionally, we'll provide valuable tips on booking the best deals and making the most of your stay in Nadi.
Luxury Resorts:
Nadi boasts a plethora of luxurious resorts that offer world-class amenities and stunning beachfront locations. Indulge in opulence and exceptional service at renowned properties such as the InterContinental Fiji Golf Resort & Spa and Sheraton Denarau Villas. These resorts feature lavish rooms, private pools, exquisite dining options, spa facilities, and access to pristine beaches. Immerse yourself in luxury and let the resorts pamper you with their exceptional hospitality.
Budget-Friendly Hotels:
For budget-conscious travelers, Nadi offers a range of affordable hotels and guesthouses that provide comfortable accommodations without breaking the bank. Consider options like Bamboo Backpackers or Smugglers Cove Beach Resort, where you can enjoy clean rooms, friendly atmospheres, and access to amenities such as swimming pools, communal kitchens, and organized activities. These establishments cater to backpackers and budget travelers, providing a great base for exploring Nadi and its surroundings.
Boutique Stays:
If you're seeking a unique and intimate experience, boutique stays in Nadi are an excellent choice. These smaller, independently owned accommodations offer personalized service, stylish decor, and a cozy atmosphere. Look for charming bed and breakfasts or boutique hotels situated in lush gardens or overlooking the ocean. These hidden gems provide a sense of tranquility and authenticity, allowing you to immerse yourself in the local culture while enjoying a comfortable stay.
Family-Friendly Resorts:
Traveling with family? Nadi has several family-friendly resorts that cater to the needs of both parents and children. Consider resorts like The Westin Denarau Island Resort & Spa or Radisson Blu Resort Fiji, which offer spacious family suites, kid's clubs, and a range of activities designed for children of all ages. From supervised pool games to cultural workshops, these resorts ensure that your little ones are entertained while you relax and enjoy your vacation.
Romantic Getaways:
Nadi is the perfect destination for a romantic escape. Choose from a variety of resorts and boutique hotels that offer seclusion, breathtaking views, and intimate settings. Resorts like Tokoriki Island Resort or Likuliku Lagoon Resort provide overwater bures or beachfront villas, where you can enjoy privacy, candlelit dinners, and rejuvenating couple's spa treatments. Experience the ultimate romantic getaway amidst the serene beauty of Fiji's tropical paradise.
Eco-Friendly Accommodations:
For environmentally conscious travelers, Nadi offers eco-friendly accommodations that prioritize sustainability and responsible tourism. Look for resorts that implement eco-friendly practices such as solar power, water conservation, and locally sourced organic food. Resorts like Matamanoa Island Resort or Tropica Island Resort are known for their commitment to eco-tourism, providing a guilt-free and environmentally conscious stay in Nadi.
Tips for Booking and Maximizing Your Stay:
Plan and book in advance to secure the best deals and availability, especially during peak travel seasons.
Consider package deals that include accommodations, meals, and activities for a more convenient and cost-effective experience.
Take advantage of loyalty programs and discounts offered by hotel chains or booking platforms.
Research and read reviews to gain insights into the quality of accommodations and services.
Connect with the hotel staff and concierge to get personalized recommendations and insider tips for exploring Nadi
Finding the perfect accommodation in Nadi is essential to enhance your overall travel experience. Whether you're looking for luxury, affordability, unique charm, family-friendly amenities, a romantic setting, or eco-conscious options, Nadi has something to cater to every traveler's needs. By considering the various accommodation options and following our tips for booking and maximizing your stay, you'll ensure a comfortable and memorable visit to this tropical paradise. In the next chapter, we will dive into the culinary delights of Nadi, exploring its vibrant food scene and savoring the flavors of Fijian cuisine. Get ready to embark on a culinary journey that will tantalize your taste buds.
Immersing in Cultural Experiences in Nadi
Immerse yourself in the rich and vibrant Fijian culture during your stay in Nadi. In this chapter, we will delve into the traditions, customs, and cultural experiences that will allow you to truly connect with the heart and soul of Fiji. From attending cultural festivals and events to visiting local villages and participating in traditional ceremonies, we invite you to embrace the warmth and hospitality of the Fijian people.
Fijian Culture, Traditions, and Customs:
To fully appreciate the cultural tapestry of Fiji, it's essential to understand its customs and traditions. Fijian culture revolves around community, respect, and a strong connection to the land and ancestors. Learn about the significance of the "Bula Spirit" – a warm and welcoming greeting that embodies the essence of Fijian hospitality. Explore the importance of meke (traditional dance), traditional attire, and the art of storytelling, which play integral roles in preserving and sharing Fijian heritage.
Cultural Festivals and Events in Nadi:
Nadi is a hub of cultural celebrations throughout the year. Plan your visit to coincide with vibrant festivals and events that showcase the diverse traditions of Fiji. The Bula Festival, held in July, is a week-long celebration of Fijian culture, featuring parades, traditional music and dance performances, and delicious food stalls. The Hibiscus Festival, held in August, is another prominent event where you can immerse yourself in Fijian music, fashion, arts, and culinary delights. These festivals offer a captivating glimpse into the vibrant cultural fabric of Nadi.
Visiting Local Villages:
A visit to a local village is a must for those seeking an authentic cultural experience. Take the opportunity to engage with locals, learn about their way of life, and gain insights into their customs and traditions. It is customary to seek permission before entering a village, and guided tours are available to ensure respectful and meaningful interactions. Participate in traditional ceremonies, such as the welcoming kava ceremony, where you can experience the Fijian way of life firsthand.
Experiencing a Kava Ceremony:
The kava ceremony holds great cultural significance in Fiji and is an integral part of Fijian social gatherings. Kava, a traditional beverage made from the roots of the kava plant, is shared among participants as a sign of friendship and hospitality. Participate in a kava ceremony to taste this mildly sedative drink and gain an understanding of its importance in Fijian customs. Observe the ritualistic preparation and serving of kava, and engage in conversations with locals as you share this unique cultural experience.
Immersing yourself in the cultural experiences of Nadi is a gateway to understanding the heart and soul of Fiji. By attending cultural festivals and events, visiting local villages, and participating in traditional ceremonies such as the kava ceremony, you'll gain a deeper appreciation for the customs, traditions, and warmth of the Fijian people. These experiences will leave you with lifelong memories and a profound connection to the cultural heritage of Nadi. In the next chapter, we will tantalize your taste buds with a culinary exploration of Nadi, where flavors from the land and sea come together in a delightful fusion of Fijian cuisine. Get ready to embark on a culinary adventure like no other.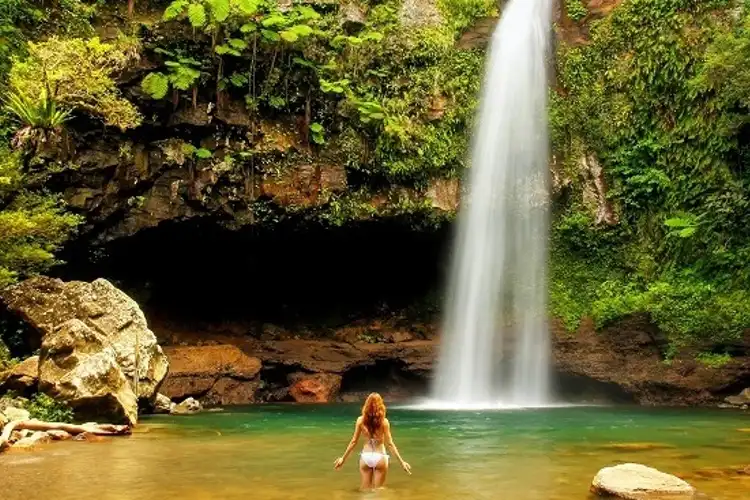 Must-Visit Locations in Nadi
Nadi is not only a gateway to Fiji's tropical paradise but also a destination brimming with natural wonders and breathtaking landscapes. In this section, we will explore some of the must-visit locations in and around Nadi. From tranquil gardens to rejuvenating hot springs, from pristine beaches to picturesque islands, these destinations will leave you awe-inspired and create memories that last a lifetime.
Garden of the Sleeping Giant:
Escape the hustle and bustle of the city and immerse yourself in the serene beauty of the Garden of the Sleeping Giant. This botanical wonderland is home to an extensive collection of orchids, tropical plants, and lush greenery. Take a leisurely stroll along the well-maintained paths, breathe in the fragrant aromas, and marvel at the vibrant colors. Don't miss the chance to explore the tranquil lily pond and discover the hidden waterfalls that add to the garden's enchanting ambiance.
Sabeto Hot Springs and Mud Pool:
Indulge in a unique and rejuvenating experience at the Sabeto Hot Springs and Mud Pool. Located at the base of the Sleeping Giant Mountains, these natural hot springs and therapeutic mud pools offer relaxation and wellness benefits. Immerse yourself in the warm, mineral-rich mud and let it nourish your skin before rinsing off in the natural thermal pools. This invigorating experience is known for its detoxifying properties and is a must-try when visiting Nadi.
Mamanuca Islands:
Embark on a memorable boat trip to the stunning Mamanuca Islands, a pristine archipelago renowned for its white sandy beaches, crystal-clear waters, and vibrant coral reefs. Take a day trip or choose to stay overnight at one of the luxurious resorts scattered across the islands. Engage in a range of activities, from snorkeling and diving to kayaking and paddleboarding. Each island has its unique charm, and you can discover secluded coves, enjoy beach picnics, and witness breathtaking sunsets that paint the sky in hues of gold and orange.
Natadola Beach:
Experience the epitome of tropical paradise at Natadola Beach, a pristine stretch of coastline just a short drive from Nadi. Sink your toes into the soft, powdery sand and take in the postcard-perfect views of the turquoise waters and swaying palm trees. Whether you're lounging on the beach, taking a leisurely stroll, or enjoying water sports such as snorkeling or surfing, Natadola Beach offers a tranquil haven where you can unwind and soak up the beauty of Fiji's natural landscape.
Nadi and its surrounding areas are blessed with natural beauty that captivates the hearts of visitors. From the peaceful Garden of the Sleeping Giant to the therapeutic Sabeto Hot Springs and Mud Pool, the picturesque Mamanuca Islands, and the idyllic Natadola Beach, these locations showcase the enchanting landscapes and coastal wonders of Nadi. Each destination offers a unique experience, allowing you to immerse yourself in Fiji's natural splendor and create cherished memories. In the next chapter, we will explore the vibrant shopping scene and unique handicrafts of Nadi, offering you the opportunity to bring a piece of Fiji home with you. Get ready to embark on a shopping adventure in the bustling markets and boutiques of Nadi.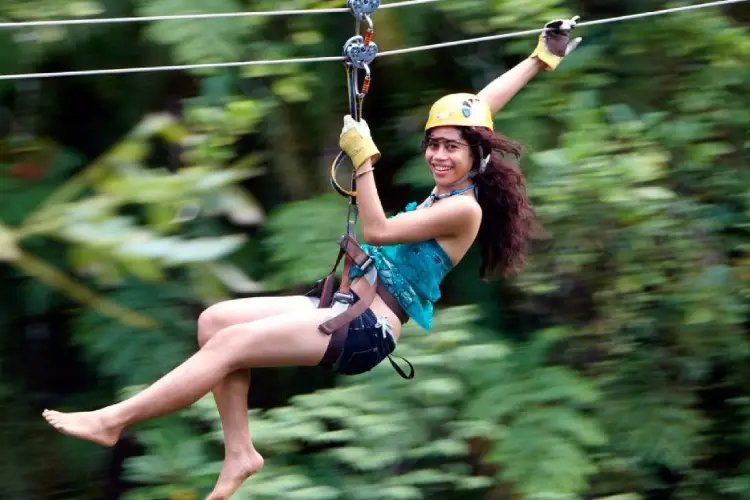 Adventures and Outdoor Activities
Nadi is not only a destination of relaxation and cultural exploration but also a haven for adventure enthusiasts and outdoor lovers. In this section, we will delve into the thrilling adventures and exciting outdoor activities that await you in Nadi. From exploring the vibrant underwater world to embarking on scenic hikes, from conquering river rapids to soaring through the rainforest canopy, Nadi offers a plethora of adrenaline-pumping experiences.
Thrilling Water Sports:
Dive into the crystal-clear waters surrounding Nadi and engage in thrilling water sports that will leave you exhilarated. Snorkeling and scuba diving allow you to explore vibrant coral reefs teeming with colorful marine life. Swim alongside tropical fish, encounter majestic manta rays, and witness the vibrant coral formations up close. For those seeking a faster-paced adventure, jet-skiing and parasailing offer an adrenaline rush as you zip across the sparkling ocean waves and soar high above the water.
Scenic Hiking Tours:
Embark on a scenic hiking tour to the Nausori Highlands or Mount Tomanivi, Fiji's highest peak. Lace up your hiking boots and immerse yourself in the natural beauty that surrounds Nadi. Trek through lush rainforests, discover hidden waterfalls, and witness breathtaking panoramic views from the mountain summits. These hiking experiences provide an opportunity to connect with nature, breathe in the fresh mountain air, and appreciate the stunning landscapes that Fiji has to offer.
River Rafting or Kayaking:
For an adrenaline-fueled adventure, head to the Sigatoka River and immerse yourself in the thrill of river rafting or kayaking. Navigate through the rapids and enjoy the rush of adrenaline as you conquer the twists and turns of the river. Feel the cool spray of water on your face and soak in the beautiful scenery that surrounds you. These water activities offer an exciting way to explore Fiji's natural landscapes while engaging in an exhilarating outdoor experience.
Zip Line Tour through Rainforests:
Soar through the lush rainforests of Nadi on a thrilling zip line tour. Strap in and glide through the treetops, experiencing a bird's-eye view of the dense foliage and cascading waterfalls below. Feel the rush of wind as you zip from one platform to another, surrounded by the sights and sounds of the vibrant rainforest. This adventure combines adrenaline with the beauty of nature, offering a unique perspective on Fiji's tropical paradise.
Nadi is a playground for adventure seekers and outdoor enthusiasts, offering a wide array of exhilarating experiences. Whether you choose to dive into the underwater wonders, hike through scenic landscapes, conquer river rapids, or soar through rainforest canopies, Nadi has something to cater to every adventurer's taste. These activities not only provide a thrilling rush but also allow you to connect with the natural beauty of Fiji. In the final chapter, we will explore the delectable cuisine of Nadi, where traditional flavors and fresh ingredients come together to create a culinary journey that will tantalize your taste buds. Get ready to indulge in the mouthwatering delights of Nadi's culinary scene.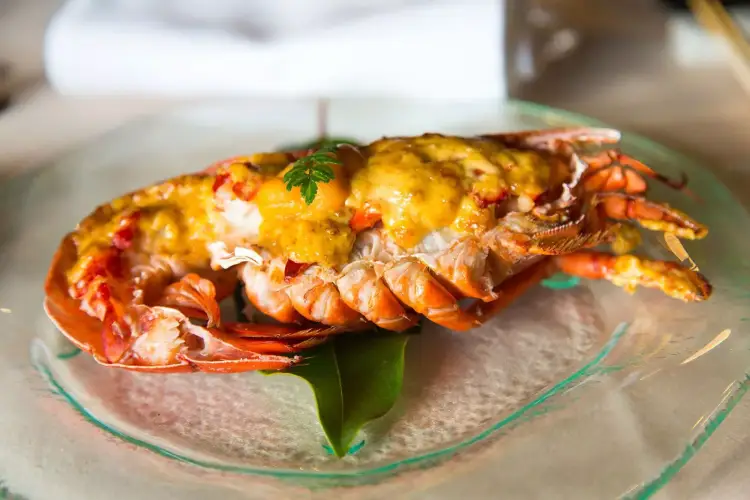 Indulging in Culinary Delights
No travel experience is complete without savoring the flavors of the local cuisine. In this section, we will dive into the culinary delights of Nadi, where traditional Fijian dishes, fresh ingredients, and vibrant flavors come together to create a culinary journey that will tantalize your taste buds. From local restaurants and street food stalls to bustling markets and traditional feasts, Nadi offers a diverse range of culinary experiences that reflect the cultural richness of Fiji.
Fijian Cuisine and Traditional Dishes:
Fijian cuisine is a fusion of flavors influenced by indigenous traditions, Indian, Chinese, and European influences. Get acquainted with traditional Fijian dishes such as kokoda (a marinated fish salad), lovo (an underground oven feast), and rourou (taro leaves cooked in coconut cream). Explore the aromatic spices, tropical fruits, fresh seafood, and hearty root vegetables that are the pillars of Fijian cooking. Embrace the unique blend of sweet, sour, and savory flavors that make Fijian cuisine truly special.
Local Restaurants and Street Food Stalls in Nadi:
Nadi boasts a vibrant food scene, offering a wide range of dining options to suit every palate and budget. Visit local restaurants that serve authentic Fijian cuisine, such as Ivi Restaurant, where you can indulge in contemporary Fijian dishes prepared with a modern twist. For a more casual experience, explore the street food stalls dotted around the city, serving up mouthwatering treats like Fiji-style samosas, roti wraps, and fresh seafood. Don't miss out on trying the delicious curries that showcase the Indian influence on Fijian cuisine.
Nadi Market and Fresh Produce:
Immerse yourself in the bustling atmosphere of Nadi Market, where locals gather to buy and sell fresh produce, spices, and handicrafts. Stroll through the vibrant stalls filled with tropical fruits like mangoes, papayas, and pineapples, and sample exotic flavors that are unique to Fiji. Engage with friendly vendors, learn about traditional ingredients, and perhaps even pick up some fresh spices or locally made products to take home as souvenirs.
Traditional Fijian Feast (Lovo) and Local Delicacies:
Experience the true essence of Fijian hospitality by attending a traditional Fijian feast, known as lovo. This communal dining experience involves food being cooked in an underground oven, creating a smoky and flavorful feast. Indulge in a variety of dishes, including succulent meats, root vegetables, and tropical delights, all cooked to perfection. Alongside the lovo, savor local delicacies like cassava cake, coconut scones, and sweet banana fritters, offering a delightful end to your culinary journey in Nadi.
Nadi's culinary scene offers a diverse array of flavors and experiences that showcase the richness of Fijian cuisine. From traditional dishes to street food delights, from bustling markets to communal feasts, there are endless opportunities to indulge in the culinary delights of Nadi. By exploring local restaurants, sampling street food, visiting the vibrant Nadi Market, and experiencing a traditional Fijian feast, you'll not only satisfy your taste buds but also gain a deeper appreciation for the cultural heritage and flavors that define Fijian cuisine. As your journey in Nadi comes to an end, you can look back with fond memories of the incredible adventures, cultural immersion, and mouthwatering culinary experiences that have made your trip truly unforgettable.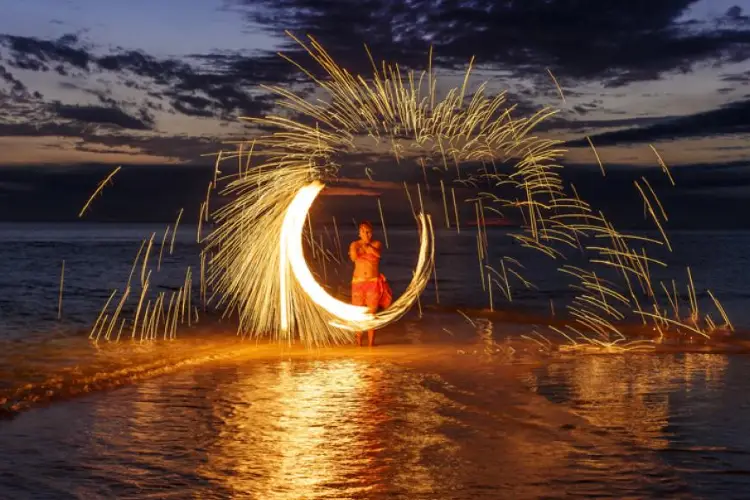 Nadi's Nightlife and Entertainment
When the sun sets in Nadi, the city comes alive with vibrant nightlife and entertainment options. In this chapter, we will explore the diverse and exciting experiences that await you after dark in Nadi. From lively bars and clubs to captivating cultural shows, and from local craft markets to souvenir shopping, Nadi offers a range of options to keep you entertained and engaged throughout the evening.
Nightlife Scene:
Nadi boasts a dynamic nightlife scene with a variety of bars, clubs, and lounges to suit different tastes and preferences. Whether you're looking for a relaxed atmosphere to enjoy a drink or a lively venue to dance the night away, Nadi has something for everyone. Head to Port Denarau Marina for waterfront bars and enjoy live music while sipping on a refreshing cocktail. The Wailoaloa Beach area is also known for its beachfront bars where you can enjoy stunning sunset views and socialize with fellow travelers from around the world.
Cultural Shows and Performances:
Immerse yourself in the rich cultural heritage of Fiji by attending captivating shows and performances. Experience the Fijian Meke, a traditional dance performance accompanied by rhythmic drumming and singing. Watch as performers showcase their graceful moves and vibrant costumes, telling stories of Fiji's history and legends. Many resorts and cultural centers in Nadi offer nightly cultural shows, allowing you to witness the beauty and diversity of Fijian arts and traditions.
Local Craft Markets and Souvenir Shopping:
Discover the vibrant local craft markets in Nadi, where you can find unique handmade souvenirs and traditional Fijian crafts. The Nadi Handicraft Market is a treasure trove of woven baskets, colorful saris, wooden carvings, and intricate jewelry. Engage with local artisans, learn about their craft, and take home a piece of Fiji's cultural heritage. These markets also offer an excellent opportunity to support local communities and contribute to sustainable tourism.
Entertainment at Resorts and Hotels:
Many resorts and hotels in Nadi offer their own entertainment programs, including live music performances, themed parties, and cultural showcases. Check with your accommodation for any scheduled events or performances during your stay. Enjoy an evening of live music by talented local musicians, witness fire dancing displays, or participate in interactive cultural workshops. These entertainment options provide a unique opportunity to further immerse yourself in the Fijian culture while enjoying the comforts of your resort.
Nadi's nightlife and entertainment scene offer a vibrant and diverse array of experiences to complement your daytime adventures. Whether you prefer a lively night out, cultural shows and performances, or leisurely shopping for unique souvenirs, Nadi has something to cater to your preferences. From enjoying the local nightlife scene and attending cultural performances to exploring craft markets and indulging in souvenir shopping, Nadi ensures that your evenings are as memorable and engaging as your daytime activities. As your journey in Nadi comes to a close, you can reflect on the incredible experiences, cultural immersion, and exciting nightlife that have made your visit to Nadi truly unforgettable.
Practical Information and Travel Tips
As your journey to Nadi draws near, it's important to familiarize yourself with some practical information and travel tips to ensure a smooth and enjoyable experience. In this final chapter, we will provide essential information about health and safety, money-saving tips, packing suggestions, and useful phrases to enhance your trip to Nadi.
Health and Safety:
It's always important to prioritize your health and safety while traveling. Before your trip, make sure you are up to date on routine vaccinations and check if any additional vaccinations are recommended for Fiji. Pack a basic first aid kit with essentials like band-aids, sunscreen, insect repellent, and any necessary prescription medications. Stay hydrated by drinking bottled water and be cautious about consuming street food to prevent any stomach issues. Additionally, be aware of your surroundings, take necessary precautions, and adhere to any local guidelines or advisories to ensure a safe and secure trip.
Money-Saving Tips:
To make the most of your travel budget, consider these money-saving tips. Look for accommodation deals or package offers that include meals or activities. Eating at local restaurants or trying street food stalls can be more cost-effective than dining at high-end establishments. Utilize public transportation or shared rides instead of taxis for getting around the city. Shop at local markets for souvenirs and unique items at more affordable prices. Finally, consider traveling during the shoulder or off-peak seasons when prices are generally lower.
Packing Suggestions:
When packing for your trip to Nadi, keep in mind the warm tropical climate and casual atmosphere. Pack lightweight, breathable clothing made from natural fibers such as cotton or linen. Include swimwear, a hat, sunglasses, and reef-safe sunscreen to protect yourself from the sun. Don't forget to pack comfortable walking shoes for exploring the city and any hiking or outdoor activities you plan to undertake. It's also advisable to carry a small daypack for excursions, a reusable water bottle, and a universal adapter for charging your electronic devices.
Useful Phrases:
While English is widely spoken in Nadi, learning a few basic phrases in Fijian can enhance your interactions with the locals and show your respect for their culture. Here are some useful phrases in Fijian and English:
Bula Vinaka (BOO-lah vee-NAH-kah) – Hello / Welcome
Moce (MOH-they) – Goodbye
Vinaka (vee-NAH-kah) – Thank you
Noqu vosa vaka-viti sa raraba (NOH-ngu VO-sa vah-kah-VEE-tee sah RAH-rah-bah) – I'm sorry, my Fijian language is limited
Veitawasei (VEY-tah-wah-SEY) – Excuse me
Yaqona (YAH-koh-nah) – Kava (traditional Fijian drink)
Sota tale (SOH-tah TA-leh) – See you later
Armed with practical information and travel tips, you are well-prepared for your journey to Nadi. By prioritizing health and safety, being mindful of your budget, packing appropriately, and learning a few basic phrases in Fijian, you can enhance your travel experience and make the most of your time in this beautiful destination. Whether you're immersing yourself in the cultural experiences, indulging in culinary delights, embarking on outdoor adventures, or simply relaxing on pristine beaches, Nadi promises to leave you with cherished memories that will last a lifetime. Enjoy your trip to Nadi and savor every moment of this incredible destination!
Visit Nadi Fiji
As your journey in Nadi, Fiji comes to an end, it's time to bid farewell to this enchanting destination. Nadi has offered you a wealth of experiences, from its pristine beaches and vibrant cultural traditions to its culinary delights and thrilling adventures. We hope that this travel guide has provided you with valuable insights, recommendations, and inspiration to make the most of your time in Nadi.
As you continue your exploration of this beautiful city, we encourage you to embrace the local customs and traditions. Respect the Fijian culture, interact with the friendly locals, and be open to learning from their way of life. Remember to tread lightly on the environment and be mindful of your impact as a responsible traveler. Nadi's natural beauty is its greatest asset, and we must do our part to preserve it for future generations to enjoy.
We would love to hear about your experiences and adventures in Nadi. Your feedback is valuable not only to us but also to other travelers seeking inspiration and information. Share your stories, recommendations, and photos with us and fellow explorers. Let your experiences inspire others to embark on their own unforgettable journeys.
As you bid farewell to Nadi, take with you the warmth of the Fijian hospitality, the memories of stunning sunsets, the flavors of the local cuisine, and the thrill of the adventures you've undertaken. Cherish the connections you've made with fellow travelers from around the world and carry the spirit of Nadi with you wherever your travels may take you next.
Safe travels, and may your adventures continue to unfold in remarkable ways. Vinaka vaka levu (thank you very much) for choosing Nadi as your travel destination. Until we meet again, moce (goodbye) and may the memories of Nadi forever remain in your heart.