Fiji holidays with kids
You have always wanted to go the magnificent Fiji Islands, but have always been a bit hesitant, especially if you have kids. Don't worry, we'll tell you exactly how easy it is to go on on holiday with kids in Fiji.  You have two options when going on Holiday in the Fiji Islands. Either planning everything yourself and following your own itinerary, or use a travel agency and buy a holiday package.
If you are holidaying with kids, I highly recommend using a holiday package over doing it yourself. It is just so much easier.They usually know about all the kid friendly resorts in Fiji, and you won't get dirty looks from couples trying to enjoy their honeymoon while little Johnny tries to catch the lobsters from the tank in the restaurant.
Kid Friendly Island Fiji
There are hundreds of kid friendly and family resorts on the Fiji Islands.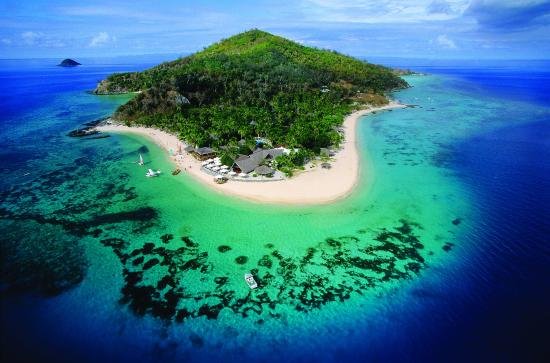 Here is top 10 Fiji holiday with kid Resorts
Radisson Blu Resort Fiji Denarau Island
Shangri-La's Fijian Resort & Spa
Raffles Gateway Hotel
InterContinental Fiji Golf Resort & Spa
Matangi Private Island Resort
Hilton Fiji Beach Resort & Spa
Grand Pacific Hotel
Tokoriki Island Resort
Vomo Island Resort
Yasawa Island Resort and Spa
Activities for Kids in Fiji
Your kids will enjoy the Fiji Islands tremendously. Fiji is a kids paradise, especially if they like the beach. You will definitely won't hear the words "Mom, I'm boooored!". Building sand castles on the pristine white beaches and swimming in the beautiful water isn't your only options. There are more activities to do than how high your child can count. How about take them to the Fiji Museum to learn about the history of Fiji? Or go on a boat cruise. What kid doesn't like riding on a boat? A few other choices include sand boarding on the countless dunes in Fiji or Zip lining over tropical jungles.
Dining for Kids in Fiji
Fiji offers a lot of dining options, and most restaurants are kid friendly. But one major concern for parents is the picky eating habits of children. The restaurants usually have a kids menu to order from, offering the always trusted chicken nuggets.
But if all else fails, fear not. The Fiji Islands has kept up with the modern world, and you will be able to find three McDonald's restaurants. At least you know your kid won't die of hunger.
A word of caution
Although there are an abundance of lifeguards on the Fijian beaches and pools, it's still your responsibility to keep an eye on your children, especially while swimming. The lifeguards are not babysitters. Keep your children in sight at all times if they are close to water. And most importantly, don't forget the sunscreen. How are your children going to enjoy their holiday if they are beet red and can't move because of sunburn.
Holiday for Kids in Fiji
Don't put off booking your Holiday in Fiji just because of kids, but rather include them. It will be the holiday not you or your children will ever forget.
The Fiji Islands, making picture perfect memories since the dawn of time.