Beachcomber Fiji Islands
Right in the heart of the Mamanuca Islands (a marine sanctuary), is the Beachcomber, Fiji. This resort is easy to reach, located just 19km from Nadi International. There are regular transfers to the island, so it should be easy to reach. It can be difficult to leave, though! Not because there are not regular transfers from the island, but because you are probably going to be enjoying your time too much here! There are not many resorts in Fiji that cater to families, so you will be pleased to know that the Beachcomber does. This creates a nice, relaxed atmosphere. It is unlike anything else that you will find on the island. It really is a lovely experience.
Accommodation at Beachcomber Fiji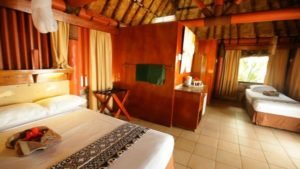 The accommodation at the
Beachcomber in Fiji
is nice and varied. You have large Bure that you can stay in, which is a real experience in itself. It really helps to capture the feel of Fiji. In addition to this, you have various hotel rooms if you are looking for something that is a bit on the cheaper side of things. Don't worry, these rooms still look absolutely gorgeous. As you may have guessed, every room on the island is air conditioned. This means that you will be able to enjoy the tropical weather of the island in relative comfort.
Weddings
The secluded nature of the
Beachcomber in Fiji
means that it will be a great place to hold your wedding. In fact, this is probably one of only a few locations in the world where you can have a traditional Fijian warrior oversee proceedings. Well, unless you have one in your family already! The team at the Beachcomber go to great lengths to ensure that your wedding here should be as fantastic as possible. There is enough a
ccommodation at the Beachcomber
to ensure that all of your guests are catered for.
Activities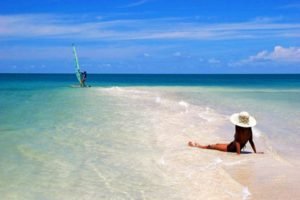 As much as you probably want to, you can't really sit around in your hammock all day, enjoying the Fijian weather. You will want to take part in some activities. Thankfully, there is plenty for you to do here. This includes:
Diving: If you are learning to dive for the first time, then there is no better place to head than Fiji. The training facility here is top notch and you will able to attain your diver's certification. Once you have that, you will be able to head out and scuba dive over ship wrecks, plane wrecks, and even come up close and personal with some sharks!
Fishing: fishing in warm water is among the best in the world. If you are a keen fisherman, or maybe you are looking to fish for the first time, then you may enjoy the various activities offered at the Beachcomber. You will be fishing in reefs and passages. This is a fishing experience that you will be unable to experience anywhere else in the world.
Excursions: there are also plenty of excursions to the surrounding islands of Fiji.
Beachcomber Island Location